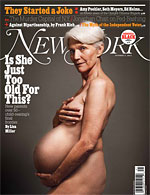 The cover story of
New York
magazine last week was titled: "Is She Just too Old for This?" and showed a freakish and obviously photo-shopped picture of a very pregnant woman in her, hmmm...late sixties. The story eventually went on to say that old motherhood is great and as long as it's possible,
go for it,
if that is what you want. There are a lot of bothersome issues about having kids at an age that they will be taking care of senile parents while they are in college or right after, but that's not what caught my attention. Here's one issue that did:
"Among women over 40, birth rates have increased. Among women ages 45 to 49, they've risen 17 percent....Women over 45 who want to carry their own babies most often use donor eggs...."
Wow. That is a
huge
increase in the number of young woman selling their eggs, and thus a
huge
increase in the number of children who will be raised in relative affluence (you don't buy eggs if you are poor or a struggling student, you sell them), but who may or may not know who they are related to genetically--at least on the maternal side. Of course, if the "mother" and "father" who will raise the child also use sperm they buy at the mall, the child will have no biological anchor, and probably a near zero chance of ever having a relationship with anyone they are akin to by biology.
Lorraine
This is a social experiment the likes of which we have never seen. This makes adoption from the era of closed adoptions seem like small potatoes. In any adoption of the kind we usually talk about here--man/woman/sex/baby/adoption--there is usually a good chance of some kind of reunion with natural parents. But it exists. However, we are learning that men who sell their sperm (I refuse to call in "donated," as that implies for free) are by and large not proving to even be willing to make their identity known to their biological offspring. And early indications are that they women who sell their eggs feel much the same way: those eggs I sold a long time ago? Done and gone. Kids? Not mine.
A long while back I wrote a tongue-in-cheek post about a site that offered scholarships to women who "donated" their children criticizing the whole concept because it smacked too much of baby-selling, but the post so offended some young women who took the scholarships, or wanted to, I took the post down. They were in enough pain anyway, and I didn't want to add to it--no matter how I felt about the practice. Scholarships shouldn't be held out like shiny carrots to young women in order to induce them to give up their babies. Now and then a woman who had donated eggs would stumble upon the post, and comment, stating that she felt no emotional connection to those eggs.
SPERM DAD WITH 70+ KIDS
So it's likely that most of those children of purchased eggs (going price seems to be between $4,000-$15,000, depending on your creds and GPA) and sperm (one ad that pops up offers college students or grads $1,200 a month!) will never meet their biological parents. Last week the Style network showed an hour-long
documentary
about a man who did register at the
sperm donor site,
and met two of the 74 known children (to date) he is biological father to. He estimated that the number was probably closed to 120. His fiancee was a bit freaked out, but never mind. The one day he met the kids and spent a day with them in kid activities, he was affable and affectionate, and the two children bonded with him immediately, so much so that it's obvious they are going to want more. So, dear fiancee, he looks as if he will be a great father. The film,
Sperm Donor
, in many ways was heart-breaking, and made me think of the growing number of kids that are being conceived and born without a link to finding anyone who looks like them. That was one issue in the
New York
magazine story. The second was adoption.
Near the end of the piece, adoption is almost causally offered up as an answer for aging folks who want to raise children--and think of the advantages of financially secure older parents:
"Compared with their 30-year-old peers, 50-year-old women have 'access to their own money and clout in the world,' says Elizabeth Gregory, a woman studies professor at the University of Houston and author of Ready: Why Women Are Embracing the New Later Motherhood. Thus established, they can chaperone the field trip without job anxiety; financially secure, they can take an extended parental leave when the baby comes."
NO GOOD REASON TO NOT ADOPT
Then the example: literary agent Molly Friedrich, who is 59 and has two adopted children (ages 9 and 14) from Guatemala and Vietnam respectively. Her two biological children were grown and gone when she decided to adopt "because she couldn't think of a good reason why not."
She goes on: "My feeling is--this is going to sound insanely narcissistic--twenty years with my husband and me versus twenty years in an orphanage, there's no comparison....They have a much better chance of flourishing with us than in the places they were raised." It was that last comment that got to me, as well as the countries that she adopted from. Here is the letter I sent to
New York
:
While no one would doubt that it's better for two kids to spend twenty years with literary agent Molly Friedrich and her husband rather than "twenty years in an orphanage," as she states, what is questionable is whether the kids would have been in any orphanage if there was not such a robust market for babies in the U.S. and elsewhere.

It's been well established and reported elsewhere that to supply the demand for "orphan" babies, children have been kidnapped and stolen and placed in "orphanages" so that well meaning and well-off folks like Ms. Friedrich and her husband would find them "available" for adoption. Guatemala and Vietnam are two of the worst offenders, and the reason their adoption mechanism has been under scrutiny and at times shut down. Unfortunately, where there is money to be made in the sale of children under the guise of "adoption," unscrupulous people will fill the demand.

In Vietnam, hospitals were sending babies to orphanages for overseas adoption when the parents were unable to pay medical bills for the birth. Health officials also got financial inducements to facilitate the number of available babies. During the civil war in Guatemala, parents were killed in order to make the baby an orphan. Ten minutes on the Internet will lead to reporting on this.*

While only the few would go forward with an adoption if they knew the child had been abducted from his or her natural parents, and I am certainly not accusing Ms. Friedrich and her husband of this, corruption in the baby business has been so rampant that international adoption today was, and remains today, a crap shoot. You might get a child who truly needs a home. Or you might not.
It is magazine pieces just like this one that encourage more international adoption, and thus, more corruption. Anyone writing about this today has an obligation to include a least a passing mention to this, rather than just note that these children have a better than of "flourishing..."than in the places they were born.--very truly, etc.
WE ALL SHARE THE FINANCIAL BURDEN
This is making my head ache, and I didn't even get into the laundry list of problems that older women have when carrying a child [with her own egg or that of another woman]: preterm labor; preemies with lung problems; digestive problems; brain bleeds (of the fetus); neurological complications, developmental delays and learning issues. Mothers over 40 are likelier to become afflicted with
"pre-eclampsia, gestational diabetes, hypertension--the worst outcomes of which can be the death of the fetus and occasionally the mother as well. It is also after 40 that the risk of of having child with autism increases--by 30 percent for mothers and 50 percent for fathers, says Lisa Croen, a senior scientist at Kaiser Permanente. Advanced paternal age [sperm from older fathers] is likewise associated with miscarriage, childhood cancer, autoimmune disease, and schizophrenia and other neuropsychchiatric disorders. 'Everyone wants to believe it's not going to happen to me,' says Isabel Bloomberg, an OB/GYN at Mount Sinai."
Folks, I'm just quoting the writer Lisa Miller in
New York
magazine. She did not get into the cost of these conditions--some temporary, some lifelong--on our already overburdened health care system. We all pay, and pay heavily, for these experiments in modern living.--
lorraine
----------------------
*Or even our own search engine here as we have reported on international adoption frequently.